Leading medicine in South Korea,
Gangnam Severance Hospital
World's first clinical introduction of anticancer drug-eluting biliary stent
More than 3,000 cases of robotic assisted da Vinci surgery
Early gastric cancer diagnosis provided using Artificial Intelligence (AI)
Hyperthermic Intraperitoneal Chemotherapy (HIPEC) practiced after cytoreductive surgery in patients diagnosed with stage IV colorectal cancer
Introduction of Intraoperative Radiation Therapy (IORT) during surgery (breast cancer, colorectal cancer, pancreatic cancer, etc.)
Site of Korea's first lung transplant surgery
Muscle cell transplant for patients with intractable muscular dystrophy
Successful idiopathic colonic perforation surgery on an Extremely Low Birth Weight(ELBW) infant (630 grams)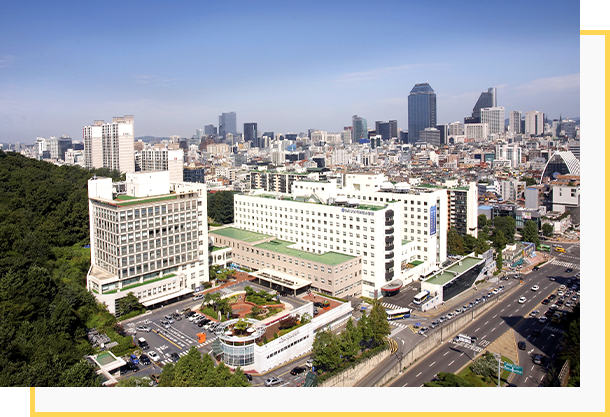 Introduction
Cancer is the Number One disease causing death in Koreans.
Gangnam Severance Cancer Hospital sets forth a new treatment standard
Cancer is the Number One disease causing death in Koreans. In South Korea, the incidence of cancer has been constantly rising with longer life expectancy, westernized dietary habits, and excessive stress.
As part of our commitment to enhancing our "medical care competitiveness," a core competency to become a "global premium hospital," Gangnam Severance has started its full and dedicated service for cancer treatment. Since March 11, 2010, when the dedicatory ceremony for the cancer hospital was held, we've establish ourselves as a differentiated cancer treatment institution that offers the best medical services.
Gangnam Severance Cancer Hospital consists of the thyroid cancer, breast cancer, gastro-esophageal cancer, colorectal cancer, liver cancer, pancreatic/biliary tract cancer, lung cancer, prostate cancer, uterine/ovarian cancer, and brain tumor centers and the oncology and radiation oncology departments, all of which have continuously demonstrated their outstanding competitiveness. At the cancer hospital, clinical departments relevant to treatment management gather together and organize 9 multidisciplinary teams to establish an optimal care plan to provide personalized treatment for each patient.
"Multidisciplinary medical care system" provides integrated care by cancer type for more proactive service.
Treatment specialized in female cancers such as thyroid, breast, cervical, and ovarian cancers is provided.
One-stop medical service consisting of diagnosis, surgery, and radiotherapy is offered at 6 radioactive isotope treatment rooms for the treatment of thyroid cancer, which is the largest scale among domestic university hospitals.
The cancer hospital takes the lead in curing disease by conducting endoscopic surgeries for early stage gastrointestinal cancer and cutting-edge robotic (da Vinci) surgeries to treat prostate, colorectal, and lung cancer.
Detailed information, education, and counseling about overall treatment by cancer type are provided by the coordinator.
Adequate nutrition management information that's useful for cancer treatment and prevention is provided via the cooking class that is usually available.
Why Severance?
Why Should You Choose Gangnam Severance Hospital?
Patient-Centered Care Services
At Gangnam Severance Hospital, patients have always been at the heart of our services. No patient's concerns are too small for the staff at Gangnam Severance Hospital, who will endeavor to answer all questions while offering meticulous care at every stage of the treatment.
Well-Trained Clinical Skills and Patient Experiences
As an important pillar of YUHS, Gangnam Severance Hospital has been faithfully practicing the historically acclaimed 'Yonsei medicine' for decades. YUHS's robust network of experts in each medical field guarantees the best treatment for you.
State-of-the-Art Healthcare System
AI-based diagnostic systems provide high-level medical services that combine the latest in medical and scientific technology, such as da Vinci robotic surgery, MR-LINAC, EOS and 3D printing technique.
Leading Hospital in the Treatment of Serious Diseases
Gangnam Severance Hospital has made significant clinical achievements, due to our outstanding medical professionals and treatment systems with particular strengths in serious diseases, such as cancers and cardiovascular and spinal diseases. We have a number of experts who offer specialized care for those with critical medical needs.
Specialized System for International Patients.
The International Health Care Center at Gangnam Severance Hospital has been operating since 2003. Each year, around 18,000 international patients are treated, from various countries including the United States, China, Mongolia, Russia and the Middle East. Translation and concierge services are offered to assist patients so that they can take full advantage of the hospital's excellent medical systems.
Special hospital
Disease-specific medical care provided by a team of specialists
The International Health Care Center (IHCC) runs a Fast-Track Program to ensure speedy treatment from the moment an international patient arrives at the hospital. IHCC provides translation services in order to assist patients completing examinations and treatment. In addition, aftercare is offered through ongoing communication, even after the patient returns home.